Practicing Dentistry in Canada through Ivory India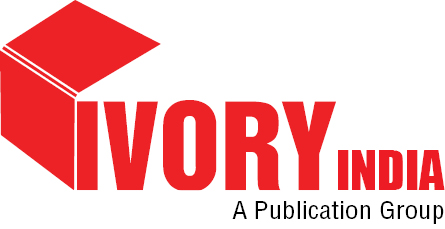 Channel Partner
IVORY INDIA - A Publishing Group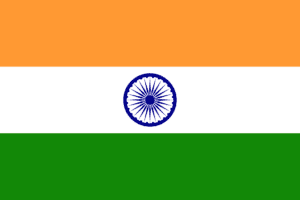 CANADA
Canada is an interesting country compared to most places immigrants come from.

The area is the 2nd largest in the world but the population is ranked #38

Opportunities are that much less than most places immigrants come from

Population growth is highly immigration dependent

The National Dental Examining Board of Canada (NDEB) is the organization responsible for establishing and maintaining a national standard of competence of dentists in Canada.
4 PATHWAYS TO PRACTICE
Updated as per NDEB's New Design of the Equivalency Process
Canada's Integration System has been the focus of Internationally Trained Dentists (ITDs) across the world for some time now. This interest has increased proportionally with the increasing mobility of these highly skilled professionals.
As leaders in the Integration of ITDs, CIDE is happy to present a simplified description of the process and the options available to become a practicing dentist in Canada, including General and Specialist Practice.
Contrary to the common perception, not only are there several options to plan your career path, some are reasonably predictable if evaluated from a statistical rather than anecdotal perspective. The most difficult component, even more than the financial aspect, might actually be clarity, planning, perseverance, patience and persistence that are subjective. However, given the return that the profession offers, all the pains involved in pursuing it are very well worth it.
Canada's international position as one of the top countries to practice dentistry, as far as income and overall quality of life is concerned. Starting salaries for associates is well over $100-125k.
There are 4 pathways for Internationally Trained Dentists that lead to practicing Clinical Dentistry in Canada. Two of these end at a general practice license and to conclude with a specialist license.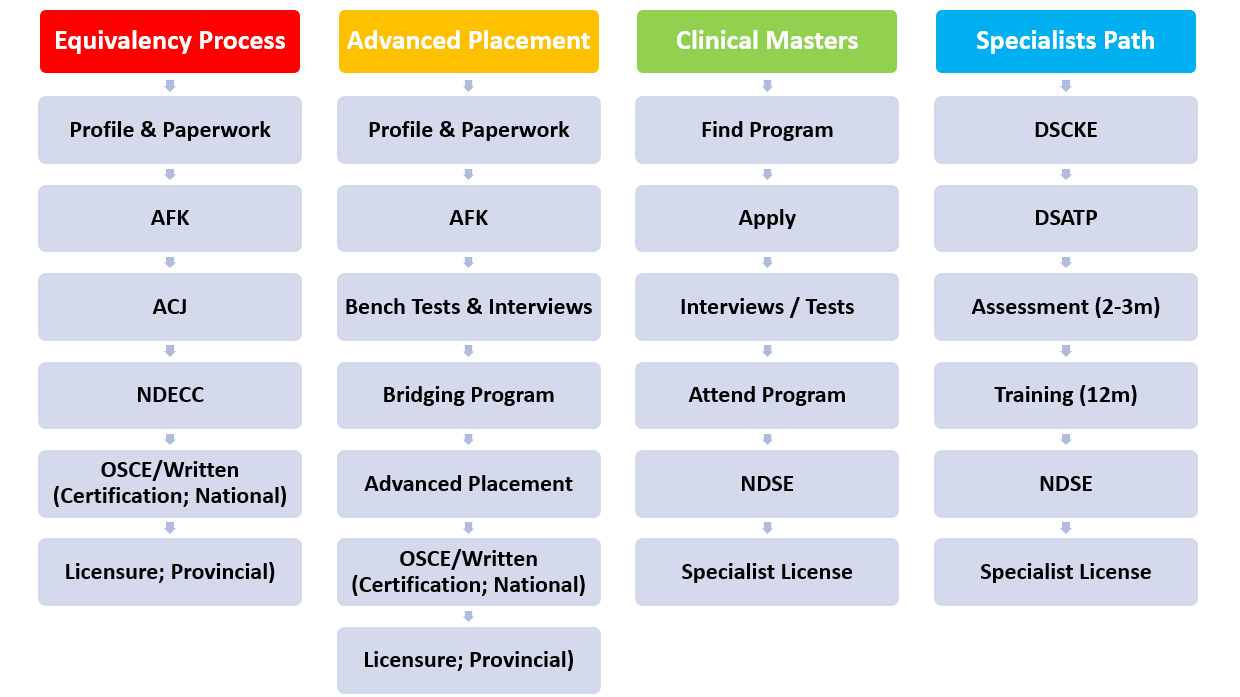 Equivalency Process
Introduced in 2011 after a federal funding, this process has recently been revised in 2021.
Following an initial step of Profile & Paperwork that takes several months now, as opposed to just 2 weeks in the early days of its introduction, ITDs are required to take 3 exams: AFK, ACJ & ACS.
The first one evaluates Fundamental Dental Knowledge through a 200 questions exam. The question format is single-best and this exam may be paper or computer based. The passing rate per attempt is approx. 45-50% but overall success probability is around 85%. This this exam can be taken a maximum of 3 times.
The second exam is also a theory exam but seeks to evaluate Clinical Dental Judgement through case scenarios and radiographs. The exam has negative marking and is now largely computer based. The passing rate per attempt is approx. 40-45% but overall success probability is around 70-75% across the maximum of 3 attempts.
Lastly, the ACS assesses Clinical Dental Skills. Candidates can take this exam unlimited number of times in a 5 year period. It involves performing some clinical and some related non-clinical projects like treatment planning, consent and communication. Candidates are required to pass all components and 2022 will see this exam being held at NDEB's in-house facility in Ottawa rather than University Faculties of Dentistry.
This process can cost between $35-50k which is significantly less than what it will cost to go through university in an advance placement program in a university. It may be pursued by both general dentists as well as foreign trained specialists.
The equivalency process, despite all opinions that surround it, still the path that offers the widest window of opportunity in terms of the number of candidates it can cater to and those that successfully complete it.
Advanced Placement
Another option after AFK is to apply to Canadian Universities offering advance placement programs. These programs can cost between $150-250k and candidates graduate with a Canadian DDS Degree. There are approximately 100 seats available each year across Canada.
The University of British Columbia (Faculty of Dentistry) discontinued this program a few years ago.
Most universities require candidates to appear in bench tests followed by interviews. May will require candidates to successfully complete a bridging program, the length of which can vary from 4-6 weeks to a few months. This whole process can take about a year and should be factored in when planning for the process. costs should also not be overlooked, as preparing and applying for several universities can quickly add up.
THE PRICE OF PRACTICING
Approximate Costs of Equivalency Process
Since dentistry is perceived as a rewarding career, the stakes and barriers are high.

Some information disseminated from 'official' sources is not necessarily an accurate reflection of the on-ground realities, which also contribute to confusion and frustration.

Needless to say, the biggest barrier is cost.

The ball parked costs involved in the Equivalency Process include but are not limited to the chart below.

For ease of understanding for planning, the process may be divided into 5 stages as seen in the table.

CANADIAN UNIVERSITIES OFFERING ADVANCED PLACEMENT

Clinical Masters
This option is available in many universities and is open to both local and internationally trained dentists. It leads to a specialist degree that makes candidates eligible to write the NDSE exam and practice as specialists. It may be pursued by both general dentists as well as foreign trained specialists.
These are available in all recognized specialties but one university may not offer them all together.
DSCKE-DSATP
This option is exclusive for internationally trained specialists. It involves passing DSCKE followed by DSATP that involves a short assessment period followed by a lightly longer (no more than 12 months) training which makes candidates eligible to sit the NDSE and practice as specialists in Canada.
CIDE offers preparatory courses for nearly all steps of the above mentioned pathways.
EQUIVALENCY PROCESS VS ADVANCED PLACEMENT
Equivalency Process
Valid for practice in Canada only

Less Overall Cost ($13K - $50k)

However, upfront availability may be difficult

Some may complete the process in 9-18 months

A certain percentage may never complete it

Wider window of opportunity

Around 300 people every year
Advanced Placement
Internationally recognized

High Overall Cost ($200-250k)

However, upfront availability may be easier 

Cannot finish sooner

Completion of the process is almost guaranteed

Narrower window of opportunity

Only 80 people every year
As with any "landing", the "approach" needs to be meticulously planned.

Many ITDs choose to go through some other programs on their way to settling into the Canadian Life, before beginning the equivalency or other educational processes.
Most commonly used pathways include dental assisting, dental office admin/management, healthcare management and dental hygiene. While dental hygiene is usually one of the most asked about programs, it is not one of the top recommended programs for this interim phase of an ITDs professional life, for various reasons including cost, time, effort and overall benefit to the main cause of acquiring a license to practice.
DISCLAIMER
CIDE is not affiliated, associated, authorized, endorsed, sponsored, supported or funded in any way by the National Dental Examining Board of Canada (NDEB). Test names and other trademarks such as "NDEB", "BNED", logos or design of the NDEB are the property of the NDEB and not trademarks of CIDE.